VISIBLE BAND GUIDER
FOR W. M. KECK OBSERVATORY
The visible band guider is a guiding system for the Keck Cosmic Reionization Mapper (KCRM).  OMP inc. has completed the Preliminary and Detailed design phase. The Full Scale Development started in early 2020. This visible guider will be used in conjunction with the red channel. OMP's guider will be mounted in front of the K-mirror.  It consists of a main bench on which 3 folding mirrors, a field lens, a filter wheel and a camera assembly are mounted. OMP was in charge of the whole system design. This includes all technical work and tests performed during the preliminary and detailed design phases. OMP is the prime contractor for the whole project.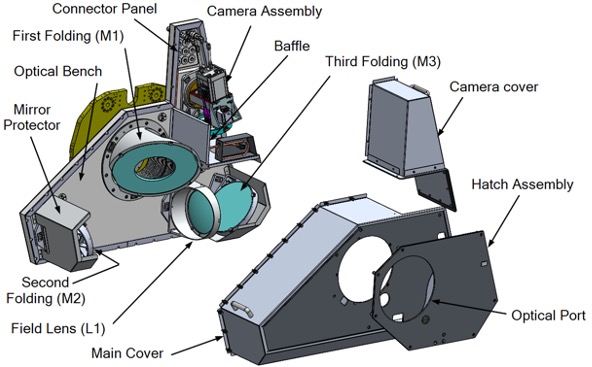 One of our engineers working on assembling and testing each mechanical component before delivering it to our client.
A scientist testing the performance of the Guider in the laboratory of one of our business partners. These tests ensure that the instrument is working perfectly and that it meets customer requirements.
This picture shows the ingenuity of the components and the instrument to meet the weight and rigidity requirements of the client.
Large custom mirror
and its mount.
 Final inside assembly with all the opto-mechanical components.

Final assembly of the Visible Band Guider that will be part to the observatory.
The instrument leaving
the laboratory.
Custom-made transport box in which the project is delivered to the W. M. KECK Observatory in Hawaii.
You have a similar projet?
At OMP, we speak your language.The language of optics.